Apple iPhone 12 -
phone prices continue to climb so we've updated our products to fit Apple's latest iPhones to help protect your investment
Avalanche Basics - 

Keep your phone ready to dial 911. Avalanche safety gear and rescue checklist information from RIE. Remember that your avalanche beacon will be strapped to your body and to keep your mobile phone away from your beacon (for example, in your backpack) to avoid interference and maximize detection range.



---
We brought Therma-Phone cases to market to help people in situations just like this! #mobilephonesurvival visit the Stowe Reporter and the Waterbury Record for the full story.

---
Lost Skier at Killington makes it out safe using Therma-Phone case. The skier identified in this article reported to us that his protective case saved his battery allowing him to call 911 and navigate to safety. More news is expected to come. WCAX TV

---
Check us out @WCAX TV "It's all about safety."

---
Out Back Navigation Away from Cell Coverage:
We have had a few questions and discussions with hunters, snowmobilers, skiers and hikers about the usefulness of a mobile phone as a safety and navigation device once you are far away from cell tower coverage.
Many people believe that once you lose cell coverage that your mobile phone is useless – not true! However, you need to know your mobile phone just as you would any other tool you rely upon for safety and security. There are often options to help you navigate back to safety, you just need to know where they are and how to use them.
GPS – many phones, for example Apple iPhones, are equipped with GPS chips and software but what is most important is that the map needs to be stored on the device to work. I did a quick test and placed an iPhone 7+ in Airplane mode turning off all cell and wifi connections. I then opened Apple Maps to see if the application worked. It did not. See Figure 1, left image. In contrast, the Waze application worked fine. See Figure 1, right image. The Waze app showed my location as I moved around town. Test your phone apps and be sure you have what you need for where you are going. I understand Google Maps will also store some maps for off-line use but like Waze (also owned by Google), the maps may only cover certain areas. You might need to find an application with maps specific to your travel areas.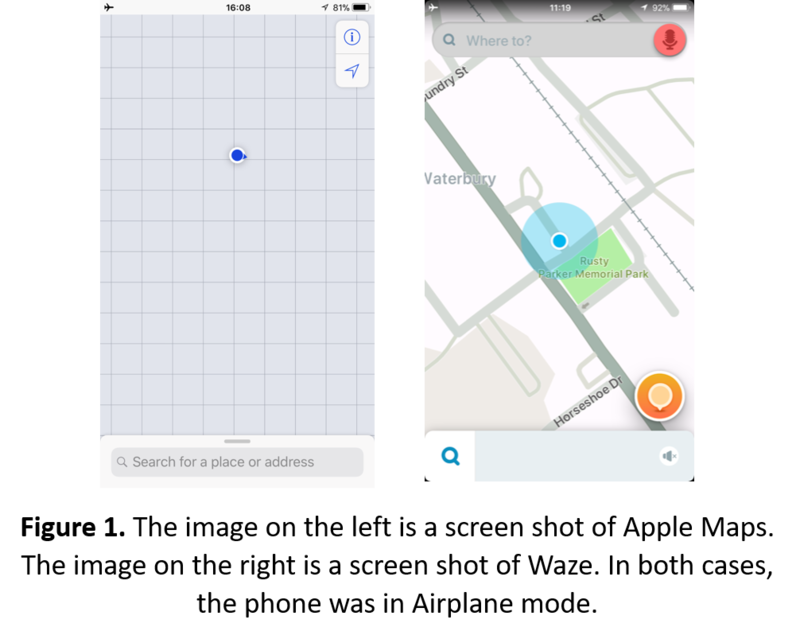 COMPASS – Many phones have a compass application. Apple has Compass. I tested it to see how well it worked in Airplane Mode. Sure enough, it worked fine giving me latitude/longitude and altitude information I could give to emergency responders for my exact location or if I chose, I could use it to navigate back to safety.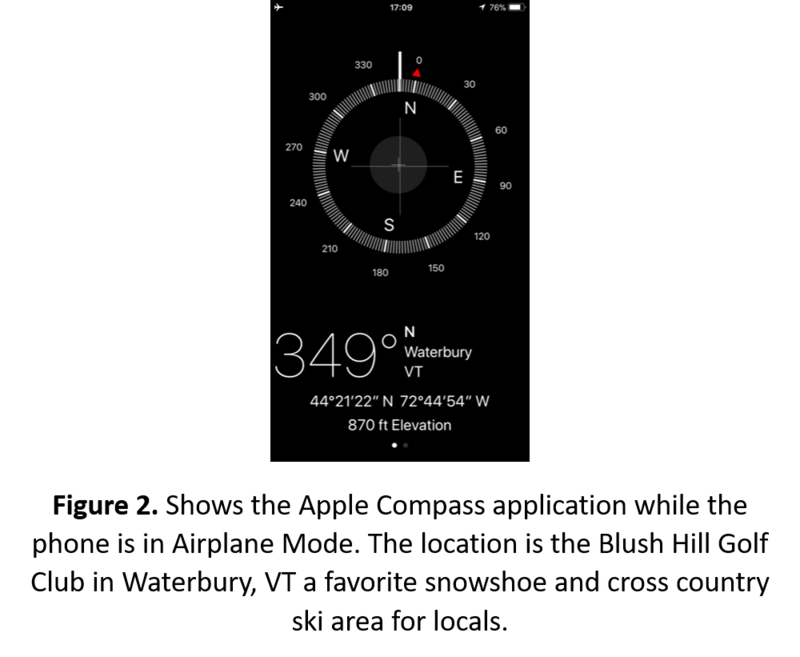 Summary – A mobile phone can be an excellent addition to any person's outdoor toolbox or backpack, ready for an emergency even when there is no cell coverage. Just spend some time getting to know what applications will work and how they work when there is no cell coverage, just find the apps and maps before you hit the trails.
---