Therma-Phone™ Survival Kit (3 pack of medium)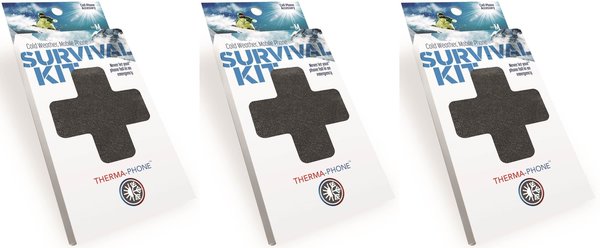 Therma-Phone™ Survival Kit (3 pack of medium)
Get one for everyone in the family or get one for your ski gear, beach bag and glove box.
A three pack (3) of Therma-Phone Survival Kits keeps the sun and heat away from your phone in the summer. Size Medium.
Each survival kit consists of one (1) medium sized Therma-Phone™ protective cover and a set of Therma-Phone™ Heat Paks (for cold weather use) generating enough heat to handle a full day in a blizzard or out on a mountain (up to 8 hours @ -1⁰F). The Therma-Phone protective cover is sized at 4.25" by 6.75" and fits most mobile phones and portable electronic devices up to 4 by 6.25 inches.
Fits the following phones without bulky cases:
- - iPhone 6/6s, 5/5s, 4/4s
- - Samsung Galaxy series - S6 edge, S6, S5, Core Prime
- - Kyocera Brigadier
- - Microsoft Lumia 735
- - HTC One M9, HTC Desire 626
- - Blackberry Classic
- - Motorola Droid Turbo
- - LG L4
If there is a concern regarding fit, for example due to a bulky phone case, please order the large Therma-Phone Protector instead. The large Therma-Phone™ Protector is designed for Note sized phones and other phones with bulky cases.

Reviews